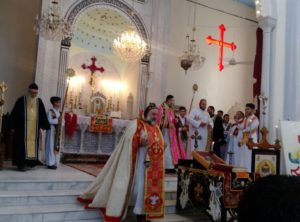 On the occasion of the 102nd commemoration of Sayfo, His Grace Bishop Mor Maurice Amsih, Patriarchal Delegate for the Archdiocese of Al-Jazeerah and Euphrates, celebrated the dukhrono of the Holy Syriac Martyrs of Sayfo during the Holy Qurobo at St. Mary Church in Qamishly.
During the Holy Qurobo, His Grace bestowed the pectoral cross on Rev. Fr. Abdulmasih Youssef, with the blessing and permission of His Holiness.
Following the Holy Qurobo, His Grace and the clergy as well as the faithful marched to the new Sayfo Monument where they prayed the special service of the Martyrs.
This slideshow requires JavaScript.