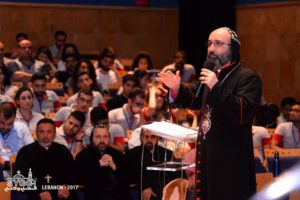 His Holiness Mor Ignatius Aphrem II attended the first spiritual talk presented during SYGG 2017 by His Eminence Mor Chrysostomos Mikhael Shemoun, Patriarchal Vicar of the Patriarchal Benevolent Institutions in Atchaneh.
His Eminence talked about the gaps that might face the youth in their lives, families, societies, and church services… and the role of the youth in filling such gaps. He also emphasized the importance of repentance and prayer in bridging the gaps.
Their Eminences: Mor Theophilus George Saliba, Archbishop of Mount Lebanon and Tripoli, Mor Dioscoros Kuriakose, Metropolitan of the Simhasana Churches in North Kerala and Abbot of Malecuriz Dayro, Mor Athanasius Geevarghese, Metropolitan of the Simhasana Churches in South Kerala and Abbot of Mor Ignatius Dayro, Mor Justinus Boulos Safar, Patriarchal Vicar in Zahleh and Beqaa, Mor Philoxenus Mattias Nayis, Patriarchal Vicar of Germany, Mor Clemis Daniel Kourieh, Metropolitan of Beirut, Mor Polycarpus Augin Aydin, Patriarchal Vicar in Holland, Mor Nicodemus Daoud Sharaf, Archbishop of Mosul, Kirkuk and Kurdistan, and Mor Timotheos Matthew, Patriarchal Secretary for Indian Affairs attended the talk.