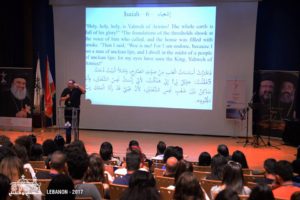 His Holiness Mor Ignatius Aphrem II attended the second spiritual talk presented during SYGG 2017 by His Excellency Mgr. Joseph Naffah, Maronite General Patriarchal Vicar on Jebbeh.
His Excellency Mgr. Joseph Naffah talked about the calling of the prophet Isaiah and identified the 5 elements of a divine calling. He spoke about the responses of the different prophets to the calling of the Lord throughout the history of the people of God. At the end of his talk, Mgr. Naffah invited the youth to take courage and face the challenges in a spirit of zeal and obedience to the Word of God.
Their Eminences: Mor Philoxenus Mattias Nayis, Patriarchal Vicar of Germany, Mor Clemis Daniel Kourieh, Metropolitan of Beirut, and Mor Nicodemus Daoud Sharaf, Archbishop of Mosul, Kirkuk and Kurdistan, and Mor Timotheos Matthew, Patriarchal Secretary for Indian Affairs attended the talk.
This slideshow requires JavaScript.