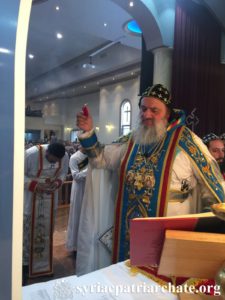 His Holiness Patriarch Mor Ignatius Aphrem II celebrated the Holy Qurobo at St. Ephraim Cathedral in Sydney. He was assisted by their Eminences: Mor Malatius Malki Malki, Patriarchal Vicar in Australia & New Zealand, and Mor Nicodemus Daoud Sharaf, Metropolitan of Mosul, Kurdistan and their Environs, in the presence of the clergy and a crowd of faithful.
In his sermon, His Holiness spoke about the significance of the Sunday of Consecration of the Church. He said: "Holiness is not unattainable, it is the way to Christ, the path of Christianity, it is a ladder that takes us to heaven, no matter how many times fall off that ladder, we should get up again and try to reach up high". He also spoke about the consecration of the church and the affirmation of Simon Peter that Jesus Christ is the Son of the living God. And this is the faith of the Church which shall not be shaken and hence the gates of Hades will not prevail.
After the Holy Qurobo, His Holiness bestowed the pectoral cross to Fr. George Alkan, parish priest of Mor Ephraim Cathedral.
This slideshow requires JavaScript.