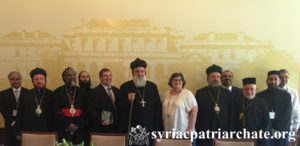 His Holiness Patriarch Mor Ignatius Aphrem II met Her Excellency Honorable Catherine Doust, President of the Legislative Council of Western Australia, at the Parliament House in Perth, in the presence of Honorable Martin Pritchard, member of the Parliament and of the Legislative Council.
His Holiness was accompanied by their Eminences, Mor Malatius Malki Malki, Patriarchal Vicar in Australia & New Zealand, and Mor Nicodemus Daoud Sharaf, Metropolitan of Mosul, Kurdistan and their Environs, Mor Melethiose Youhanon, Patriarchal Vicar for Australia and New Zealand for the faithful of our Church from Malankara, as well as Very Rev. Fr. Boutros Issa, Parish Priest of St. Aphrem Church in Perth, Very Rev. Raban Joseph Bali, Patriarchal Secretary and Media Office Director, Rev. Fr. Jomon Parish Priest of St. Peter the Apostle Church and representatives of the Syriac Orthodox Church councils in Perth.
His Holiness and Her Excellency discussed the current situation of Christians in the Middle East, especially in Iraq, Syria and Lebanon. His Holiness also spoke about the situation of our people who emigrated to Western Australia and how well they integrated in the Australian society, especially in their jobs.
This slideshow requires JavaScript.