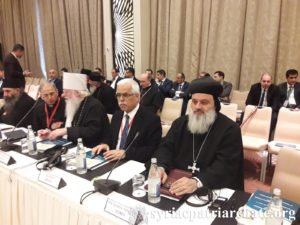 His Holiness Patriarch Mor Ignatius Aphrem II attended the plenary sessions during the conference: "2017 – Year of Islamic Solidarity: Interreligious and Intercultural Dialogue", Held in Baku – Azerbaijan.
In the first session, His Holiness delivered a speech in which he brought to memory that our Syriac Orthodox Church was present in Azerbaijan for many centuries. He then talked about the Christian role in promoting co-existence. His Holiness stressed the fact that every human being should be respected regardless of religion and race, and that freedom of religion should be guaranteed for all human beings. He added that the principle of equal citizenship should be upheld in our society. He then emphasized the importance of knowing one another which is paramount in ensuring peaceful co-existence, and that dialogue on different levels is greatly needed to build trust among people of different faiths.
On another level, His Holiness expressed disturbance by the declaration of the president of the United States of America concerning the city of Jerusalem. Finally, He appealed to all to help the secure immediate release of the two abducted archbishops of Aleppo Boulos Yaziji and Mor Gregorius Youhanna Ibrahim.
Several speeches were delivered during the sessions which were concluded with an appeal for dialogue between religions.
This slideshow requires JavaScript.