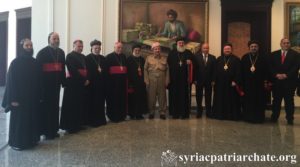 His Holiness Patriarch Mor Ignatius Aphrem II visited His Excellency President of Iraqi Kurdistan Mr. Massoud Barzani at the Presidential Palace.
His Holiness was accompanied by their Eminences: Mor Gregorius Saliba Shemoun, Patriarchal Counselor, Mor Justinus Boulos Safar, Patriarchal Vicar in Zahleh and Beqaa, Mor Timotheos Moussa Al-Shamani, Archbishop of the Archdiocese of Mor Matta Monastery, Mor Philoxenus Mattias Nayis, Patriarchal Vicar in Germany, Mor Nicodemus Daoud Sharaf, Archbishop of Mosul, Kurdistan and Environs, Mor Timotheos Matta Al-Khoury, Patriarchal Vicar in the Patriarchal Archdiocese of Damascus, their Excellencies Syriac Catholic Archbishop of Mosul, Kirkuk and Kurdistan Mor Youhanna Boutros Moushe, Chaldean Archbishop of Erbil Mgr. Bashar Warda, Very Rev. Raban Joseph Bali, Patriarchal Secretary and Media Office Director and Mr. Khaled Talia, Director of Christian Affairs in the Ministry of Endowments.
His Holiness thanked His Excellency the President for helping Christians who sought refuge in Kurdistan. He also discussed with him the concerns of the Christians in the Middle East and asked for his help in the cause of the abducted Archbishops of Aleppo Mor Gregorius Youhanna Ibrahim and Boulos Yaziji.
His Excellency welcomed His Holiness and the accompanying delegation and said that they will continue to support and help Christians to remain in their homeland. He also promised to do his best for the release of the two abducted Archbishops of Aleppo.
The meeting was also attended by His Excellency Minister of Interior Mr. Karim Sinjari.
This slideshow requires JavaScript.