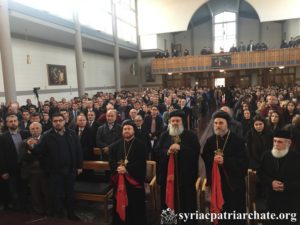 His Holiness Patriarch Mor Ignatius Aphrem II participated in the Convention Day 9 at St. Mary Church in Augsburg – Germany.
The event was organized by the Youth organization of the Patriarchal Vicariate in Germany: SOKAD.
The program included a choir performance of St. Mary Church's Choir in Augsburg as well as the display of videos of the activities done for the Youth.
His Holiness delivered a lecture on "the Holy Eucharist" and spoke about its importance in strengthening the bonds of the faithful to their church and to God. The lecture was followed by a Question & Answer session.
The Convention Day 9 was attended by their Eminences Mor Philoxenus Mattias Nayis, Patriarchal Vicar in Germany, Mor Nicodemus Daoud Sharaf, Archbishop of Mosul, Kirkuk and Kurdistan and the clergy of the Southern areas in Germany as well as a large number of faithful who gathered to receive the blessings of His Holiness.
This slideshow requires JavaScript.