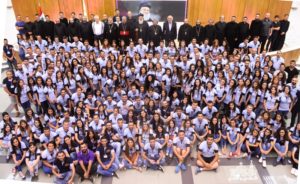 His Holiness Patriarch Mor Ignatius Aphrem II officially inaugurates the second Suryoyo Youth General Gathering in Syria (SYGG-Syria 2017) at Mor Aphrem Monastery in Maarat Saydnaya – Syria.
The opening was attended by their Eminences: Mor Selwanos Boutros Al-Nehmeh, Archbishop of Homs, Hama and Environs, Mor Justinus Boulos Safar, Patriarchal Vicar in Zahleh and Beqaa, Mor Timotheos Matta Al-Khoury, Patriarchal Vicar in the Patriarchal Archdiocese of Damascus, Mor Timotheos Matthew, Patriarchal Secretary for Indian Affairs, and Mor Maurice Amsih, Archbishop of Al-Jazeerah and Euphrates, as well as the monks, priests, nuns, seminarians of Mor Aphrem Theological Seminary, and more than 200 youth coming from the four Syriac Orthodox Archdioceses in Syria: Damascus, Al-Jazeerah and Euphrates, Aleppo, and Homs, Hama and Environs.
The gathering is organized by the Suryoyo Patriarchal Youth Department (SPYD) under the auspices of His Holiness the Patriarch, and will take place from 14 to 17 September, 2017.
During the opening, a theatrical piece representing Mission which is the theme of the gathering was played. Then, Very Rev. Raban Jack Yakoub, Director of the Youth Department, delivered a speech in which he thanked the Lord Jesus Christ for giving the youth the opportunity to be able to gather together during the hard times that Syria is passing through. He then explained the aim of this gathering as well as its theme: "Here am I. Send me", for each one of the youth might be the only bible that people can meet.
His Holiness then spoke about the role of the youth as living stones in the building of the Holy Church; he said that the Church is not only the Patriarch, bishops, and priests, but also the youth who have a principle role in the mission of the Church. He added that: "We are for you, and you are for us, and together we are for God". His Holiness then wished that the youth benefit at three main levels during this gathering: To be more involved and committed to the Church, feeling the responsibility of being Christians; to strengthen their admiration to the heritage and culture of their Holy Church, and especially its Syriac language; and to become more firmly attached to their country Syria in which they were born, grew up, lived and will stay! He finally wished them a joyful and successful gathering.
This slideshow requires JavaScript.