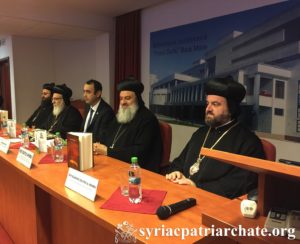 His Holiness Patriarch Mor Ignatius Aphrem II attends the book signing ceremony of "The Scattered Pearls: history of Syriac literature and sciences is a survey of Syriac literature" book written by Late Lamented Patriarch Mor Ignatius Aphrem I.
During the ceremony, Professor Alexander Petreliceanu welcomed His Holiness in Maramures County and thanked him for his visit. His Holiness then signed the Romanian version of the book.
He then conveyed a speech in which he thanked the Romanian government and the council of Maramures County for their participation in spreading one of the eldest cultures in the world that is the Syriac history and literature, through translating the precious book of Patriarch Ignatius Aphrem I into the Romanian language.
Several speeches were then conveyed emphasizing the value of the book and the cultural contribution it shall add to th
This slideshow requires JavaScript.
e society in Romania.
Their Eminences: Mor Theophilus Georges Saliba, Archbishop of Mount Lebanon and Tripoli, and Mor Timotheos Matta Al-Khoury, Patriarchal Vicar in the Patriarchal Archdiocese of Damascus, Very Rev. Raban Joseph Bali, Patriarchal Secretary and Media Office Director, along with His Excellency governor of Maramures Vasile Moldovan, also attended the ceremony.