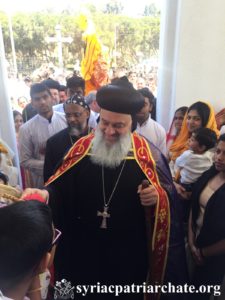 His Holiness Patriarch Mor Ignatius Aphrem II presided over the thanksgiving prayer at St. Georges the Martyr Church in Dandenong – Melbourne.
Their Eminences Mor Meletius Youhanon, Patriarchal Vicar in Australia and New Zealand for the faithful of our Church from Malankara, Mor Malatius Malki Malki, Patriarchal Vicar in Australia & New Zealand, and Mor Nicodemus Daoud Sharaf, Metropolitan of Mosul, Kurdistan and their Environs, as well as priests and a crowd of faithful attended the prayer.
His Holiness prayed the service of the saints at the monument raised in the memory of Saint Mor Baselius Yeldho. Afterwards, he blessed the foundation stones of 5 new churches which will be built in Melbourne.
Members of the Parliament of Melbourne were also present at the function and they thanked His Holiness for blessing the community.
In his spiritual word, His Holiness spoke about the faithful as living stones with whom the church is built.
This slideshow requires JavaScript.