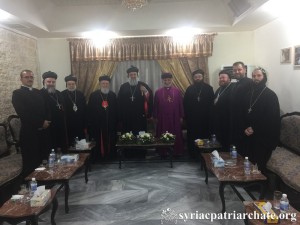 His Holiness Patriarch Mor Ignatius Aphrem II visited His Holiness Assyrian Patriarch Mar Gewargis III Sleewa at his patriarchal residence in Baghdad.
His Holiness was accompanied by their Eminences: Mor Severius Hawa, Archbishop of Baghdad and Basra, Mor Timotheos Moussa Al-Shamani, Archbishop of the Archdiocese of Mor Matta monastery, Mor Nicodemus Daoud Sharaf, Archbishop of Mosul and Kurdistan, Mor Timotheos Matta Al-Khoury, Patriarchal Secretary, His Grace Mor Maurice Amsih, Director of Public Relations and Patriarchal Delegate in Al-Jazeerah and Euphrates, and Very Rev. Raban Joseph Bali, Patriarchal Secretary and Media Office Director.
His Holiness Patriarch Mar Gewargis III welcomed His Holiness Patriarch Aphrem II and the accompanying delegation.
He expressed his joy at this visit to Baghdad and underlined its importance for the Christians still living there.
Similarly, His Holiness Patriarch Aphrem II thanked His Holiness for the warm welcome and prayed for peace in Iraq and the Middle East. He highlighted the importance to have regular meetings of the heads of the churches in the Middle East to discuss and find solutions for the difficulties and persecutions we are witnessing. He also congratulated His Holiness for the liberation of the kidnapped Assyrians from Khabur.
This slideshow requires JavaScript.