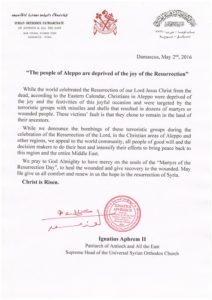 Following the recent bombings in Aleppo, His Holiness Patriarch Mor Ignatius Aphrem II issued the following statement:
Damascus, May 2nd, 2016
"The people of Aleppo are deprived of the joy of the Resurrection"
While the world celebrated the Resurrection of our Lord Jesus Christ from the dead, according to the Eastern Calendar, Christians in Aleppo were deprived of the joy and the festivities of this joyful occasion and were targeted by the terroristic groups with missiles and shells that resulted in dozens of martyrs or wounded people. These victims' fault is that they chose to remain in the land of their ancestors.
While we denounce the bombings of these terroristic groups during the celebration of the Resurrection of the Lord, in the Christian areas of Aleppo and other regions, we appeal to the world community, all people of good will and the decision makers to do their best and intensify their efforts to bring peace back to this region and the entire Middle East.
We pray to God Almighty to have mercy on the souls of the "Martyrs of the Resurrection Day", to heal the wounded and give recovery to the wounded. May He give us all comfort and renew in us the hope in the resurrection of Syria.
Christ is Risen.
Ignatius Aphrem II
Patriarch of Antioch and All the East
Supreme Head of the Universal Syrian Orthodox Church
This slideshow requires JavaScript.