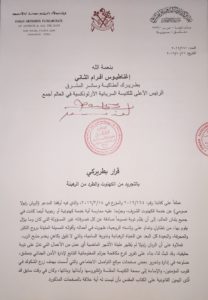 On October 16, 2016, His Holiness Patriarch Mor Ignatius Aphrem II issued the following Patriarchal Verdict:
Patriarchal Verdict
Of Defrocking from Priesthood and Expelling from Monkhood
Following our apostolic bull No: 164/2016, dated March 18, 2016, in which we suspended the so-called "Raban Raboula Sawme" from priesthood and banned him from the practice of pastoral or liturgical rites related to priesthood in all countries throughout the world, until he repents and refrains from all his irresponsible deeds which he did and was still doing, including disobeying and rebelling against his spiritual superiors which manifested in his impertinent words and deeds full of pride and arrogance, and far from the conduct of monastic life and its sublime vows, and not befitting a priest serving the holy altar.
In addition to the fact that Raban Raboula did not show any true repentance for the past months, it was proved in the report of the Branch of Fighting Informational Crime of the Directorate of the Criminal Security in Damascus, that he is involved in the administration and edition of some social media pages which were created to raise doubts among the faithful and to destroy the reputation of the Holy Church, its clergy and faithful, though he had sworn legally laying his right hand on the Holy Bible that he had no relation to the aforementioned pages.
Based on the above, and on the Article 110 and Chapter 10 of the Constitution of our Holy Syriac Orthodox Church, and in our capacity as Patriarch of Antioch and All the East and Supreme Head of the Universal Syriac Orthodox Church, and as Spiritual Father of all monks, and through our apostolic authority, we declare:
Defrocking the so-called "Raban Raboula Sawme" from priesthood, and from wearing the special clergy cloth, distinctive to our Syriac Orthodox Church. He shall be known by his civil name "Bassam Sawme".
Expelling the so-called 'Monk Raboula Sawme", known as "Bassam Sawme" from the Syriac Orthodox Monastic Order.
This Verdict shall be published and is effective immediately starting from the date of publication.
This slideshow requires JavaScript.