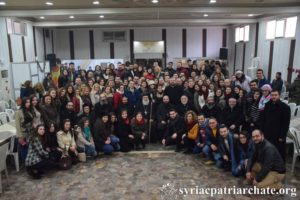 A general meeting for the Youth in Aleppo was organized in Mor Gregorius Youhanna Ibrahim Hall in Sulaymaniyyah.
More than 200 youth participated in the Spiritual Retreat organized by Very Rev. Raban Jack Yacoub, Director of the Youth Department, in collaboration with Very Rev. Raban Boutros Kassis, Patriarchal Delegate in Aleppo and Environs.
The meeting was opened by prayers and meditations on the coming of the New Year. Talks on New Year resolutions were given as well as the changes that the youth are called to make in their spiritual lives. The young people who participated were asked to express their special moments during the year 2016 in which they experienced the presence of the Lord in their lives and their aspirations for the year 2017.
His Holiness Patriarch Mor Ignatius Aphrem II visited the youth during the meeting and spoke to them about the way to keep one's heart alive with hope and faith, especially in connection with the difficulties and hardships that we are living in Syria and the Middle East. The meeting was followed by a lunch in which His Holiness was present.
This slideshow requires JavaScript.