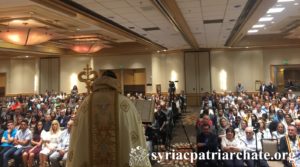 His Holiness Patriarch Mor Ignatius Aphrem II celebrated the Holy Qurobo at the conclusion of the 53rd Annual Convention held in California, USA.
Their Eminences Archbishops Mor Clemis Eugene Kaplan, Patriarchal Vicar for the Western USA, and Mor Dionysius John Kawak, Patriarchal Vicar for the Eastern USA, assisted His Holiness during the Holy Qurobo. The clergy from both Archdioceses who participated in the convention were also present in the Holy Qurobo.
In his sermon, His Holiness spoke about the theme of the convention "Peace" and reminded the faithful that the peace which the Lord Jesus Christ promised us is not of this world. He also explained that faith in the Lord can provide the believers with peace despite the tribulations and persecutions that they are faced with. He spoke about the difficult times that Christians are going through in the Middle East, and prayed for them asking the Lord to spread His peace throughout the world.
At the end of the Holy Qurobo, His Eminence Mor Clemis Eugene Kaplan commended the work of Mrs. Patricia Allaf in the unified Sunday School in the Archdiocese and His Holiness conferred to her a shield of honor in recognition of her devotion, work and efforts for 25 years.
This slideshow requires JavaScript.