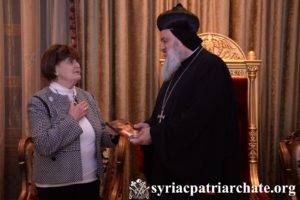 The Syriac Orthodox Patriarchate of Antioch hosted, at Mor Aphrem Monastery in Maarat Saydnaya, a formal reception in honor of the delegation from the United Kingdom, visiting Syria upon the invitation of His Holiness Patriarch Mor Ignatius Aphrem II.
The delegation included members of the House of the Lords: Baroness Caroline Cox, Lord Raymond Hylton, Lord Carey of Clifton, Mrs. Eileen Carey, as well as religious leaders from the Anglican Church: Rev. Andrew Ashdown, Rev. David Thomas, in addition to Mrs. Nasrin Sharifi, and Mr. Samuel Mason.
His Holiness welcomed the delegation and asked them to help the Syrian people people, especially in lifting the economic sanctions imposed on Syria by the West.
The delegation had the opportunity to meet with dignitaries from Saydnaya.
His Eminence Mor Timotheos Matta Al-Khoury, Patriarchal Vicar of the Patriarchal Archdiocese of Damascus, attended the reception, as well as Christian leaders and dignitaries from Saydnaya.
This slideshow requires JavaScript.