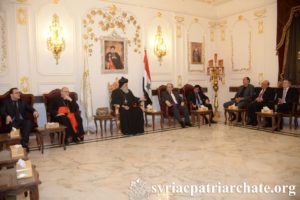 On the occasion of the new year 2018, His Holiness Patriarch Mor Ignatius Aphrem II invited their Excellencies the Ambassadors, Charge d'Affaires and Diplomatic Representatives to a Formal Reception at the Patriarchate in Bab Touma.
The reception was attended by His Excellency Mario Cardinal Zenari, Apostolic Nuncio in Damascus, His Excellency Dr. Faisal Mekdad, Syrian Deputy-Foreign Minister, as well as the ambassadors or heads of missions of various countries.
His Holiness Patriarch Aphrem II welcomed their Excellencies and spoke about the current situation in Syria. He expressed his sorrows that the year 2017 was not good for the Syrian people, for it was a painful year full of sufferings; He hoped that in the new year 2018 peace will prevail in the country and all over the world. His Holiness urged the international communities to promote peaceful resolution in Syria. He also thanked the ambassadors and their respective governments for their solidarity with Syria, especially expressed by the presence of diplomatic representation and cooperation in Syria.
His Excellency Cardinal Zenari gave then a speech in which he emphasized the role of the church in rebuilding Syria, especially in building the hearts of Syrian brothers and sisters.
Another speech was then conveyed by His Excellency Dr. Mekdad who reassured the fact that Syrians have equal rights and duties. He then spoke to the ambassadors saying that their presence means a lot for they are witnesses to what is happening in Syria.
Their Excellencies then expressed their joy to be united at the Syriac Orthodox Patriarchate and they felt this reception to truly reflect the image of the Syriac Orthodox Church and the Syrian hospitality.
Their Eminences Mor Timotheos Matta Al-Khoury, Patriarchal Vicar in the Patriarchal Archdiocese of Damascus, Mor Timotheos Matthew, Patriarchal Secretary for Indian Affairs, and Mor Maurice Amsih, Archbishop of Jazeera and Euphrates, as well as the monks of the patriarchate also attended the reception.
This slideshow requires JavaScript.