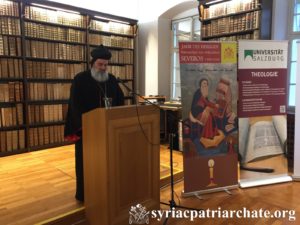 His Holiness Patriarch Mor Ignatius Aphrem II attended the inauguration session of the Conference: "Severus of Antioch and His Search for the Unity of the Church: 1500 Years Commemoration of his Exile in 518 AD", organized by the Department of Syriac Studies at the University of Salzburg in connection to the commemoration of the 1500th anniversary of St. Severus exile to Egypt.
In his opening speech, His Holiness gave an overview about the life and writings of St. Severus of Antioch. He highlighted the fact that "Despite being away from his flock, enjoying personal safety and comfort, St. Severus did not abandon his mission nor has he forgotten his responsibility towards his flock in Antioch". He added that "our saintly Patriarch continued to administer the Church of Antioch from his exile in Egypt for a period of 20 years".
His Holiness also spoke about the great impact that St. Severus left on the liturgical tradition of the Syriac Orthodox Church.
He also congratulated Beth Suryoye for organizing this conference, which "is a tangible sign of the success of Beth Suryoye in fulfilling its mission of promoting Syriac Studies and preparing future generations of clergy, scholars and teachers for the Syriac Orthodox Church of Antioch in Europe and elsewhere."
At the end of his speech, His Holiness honored Dr. Sebastian Brock, is celebrating his 80th birthday, with a token of appreciation for dedicating most of his life to the Syriac Studies. His Holiness wished him and his family good health.
Several speeches were then delivered the inauguration session, which was also attended by His Eminence Mor Polycarpus Augin Aydin, Patriarchal Vicar in Holland, and Mgr. Dr. Franz Lackner, Catholic Archbishop of Salzburg.
This slideshow requires JavaScript.