His Holiness Patriarch Mor Ignatius Aphrem II celebrated the service of the worship of the Cross at St. George Patriarchal Cathedral in Bab Touma in Damascus. He was assisted by His Eminence Mor Timotheos Matta Al-Khoury, Patriarchal Vicar at the Patriarchal Archdiocese of Damascus and the monks of the Patriarchate. St. Ephrem Patriarchal Choir in Damascus chanted the special hymns for the occasion.
In his sermon, His Holiness explained that we do not worship wood or metal, we worship God Creator of heaven and earth". He added that we do not worship a simple human being, but God the Lord Who was driven by His love towards mankind to become like us in everything except sin."
His Holiness emphasized that the Lord Jesus Christ knows our suffering on this earth and that "it was God's love that moved Him to save Man, and since sin is against God, it was necessary for God Himself to redeem mankind".
His Holiness pointed out that all the prophecies were fulfilled on the cross. He added that the Lord does not want us to weep over Him, but over ourselves, our sins and our fall into this world of pain and suffering".
His Holiness called the faithful to follow Christ and love their fellows and always ask God to forgive them. He said that "today starts a new covenant between God and us, a covenant that He is our God, father, brother and friend, because we are in deep need in this world for a brother and a friend like Christ".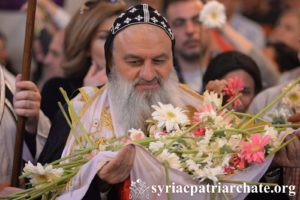 At the end of his sermon, His Holiness asked the faithful to pray for peace in the world and that the peace of Christ enters the hearts of all people. He prayed for Syria and for the safe return of the two abducted Archbishops of Aleppo Boulos Yaziji and Mor Gregorius Youhanna Ibrahim. He also asked the Lord to strengthen the faith of the Christians in the Middle East so that they remain witnesses of His resurrection despite the persecutions they are enduring. He concluded praying that we can all be true disciples of the Crucified, and worship Him as the Crucified and Risen Lord."
After the completion of the service of the worship of the cross, His Holiness led a procession with the Holy Cross and blessed the faithful. He then completed the rite of the burial of the Crucifix in the holy altar.
This slideshow requires JavaScript.