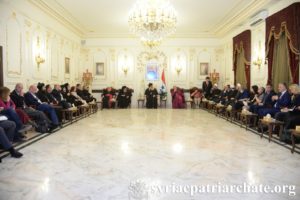 The Syriac Orthodox Patriarchate of Antioch hosted a formal reception in honor of a delegation from the United Kingdom.
The delegation, led by Baroness Caroline Cox, is on a visit to Syria upon the invitation of His Holiness Patriarch Mor Ignatius Aphrem II.
His Holiness welcomed the delegation, conveying to them Easter Greetings; he said: "Christ's Resurrection means new life to humanity; this itself is a sign of hope without which we cannot live". He added that the delegation's "visit to Syria during these days is a sign of friendship between us, which we hope it was the case between the governments of the two countries." His Holiness considered that "this war is not a civil war, but a war of countries who want to impose on the Syrian people a way of life". He emphasized that "even before the crisis, we Christians had the full freedom to practice our religion the way we want, just as all other religions."
His Holiness then read the statement issued by the patriarchates of Antioch and all the east for the Syriac Orthodox, Greek Orthodox and Greek-Melkite Catholic.
Several members of the delegation spoke expressing their solidarity with the Syrian suffering people, and condemning the negative role of western media in conveying false news concerning the real situation in Syria.
His Eminence Mor Timotheos Matta Al-Khoury, Patriarchal Vicar of the Patriarchal Archdiocese of Damascus, attended the reception, as well as Christian leaders from Damascus, dignitaries from the civil society, representatives from the Syrian Ministry of Endowments and Muslim Sheikhs
.
This slideshow requires JavaScript.