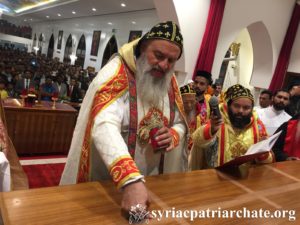 His Holiness Patriarch Mor Ignatius Aphrem II consecrated the church of Mor Shmouni in Ghala – Muscat, Oman.
His Holiness was assisted by His Beatitude Mor Baselios Thomas I, Catholicos of India, and their Eminences: Mor Ireneos Paulose, Patriarchal Vicar of Oman and Metropolitan of Kozhikkod Diocese, Mor Clemis Daniel Kourieh, Metropolitan of Beirut, Mor Barthelmaus Nathanael Youssef, Patriarchal Vicar in the United Arab Emirates and the Arabian Gulf Countries, Mor Gregorios Joseph, Metropolitan of Cochin Diocese and Secretary of the Regional Episcopal Synod in India, Mor Melethios Yuhanon, Metropolitan of Thumpamon Diocese and Patriarchal Vicar for Australia, Mor Theodosios Mathews Metropolitan of Kollam Diocese, Mor Chrysostomos Markose, Metropolitan of Evangelical Association of the East, Mor Osthatheos Issac Metropolitan of Mylapore Diocese and Patriarchal Vicar for UAE, and Mor Timotheos Matthew, Patriarchal Secretary for Indian Affairs, in the presence of the clergy and parishioners.
His Holiness then celebrated the Holy Qurobo in the newly consecrated church.
In his sermon, His Holiness expressed his happiness to gather with his spiritual children from our Syriac Indian Church in Oman, especially for the consecration of the new church which is the House of God. His Holiness thanked His Majesty Sultan Qaboos, the government and people of the Sultanate of Oman, for facilitating the construction work and showing all love to our church in Oman. He then explained that the consecration of this house of worship is what makes it a holy place where the faithful can gather in the name of the Lord, praise Him and offer the Holy Qurobo, thus be sanctified themselves. At the end, His Holiness thanked all those who helped bringing the building of the church to completion.
This slideshow requires JavaScript.