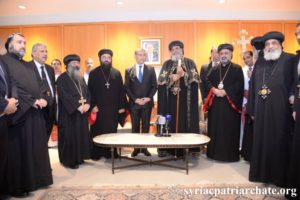 Upon the invitation of our Syriac Orthodox Patriarchate of Antioch and All the East, His Holiness Pope Tawadros II, Pope of Alexandria and Patriarch of Saint Mark Episcopate, arrived at the Hall of Honor at Beirut–Rafic Hariri International Airport.
His Holiness was welcomed at the airport by a delegation from our Syriac Orthodox Church, representing His Holiness Patriarch Mor Ignatius Aphrem II. The delegation included their Eminences: Mor Justinos Boulos Safar, Patriarchal Vicar in Zahla and Bekaa, Mor Timotheos Matta Al-Khoury, Patriarchal Vicar for the Patriarchal Archdiocese of Damascus, and Very Rev. Raban Yacoub Babawi.
His Eminence Anba Antonios, Archbishop of Jerusalem and the Middle East for the Coptic Orthodox Church, and Rev. Fr. Rowais Al-Ourashalimi, Priest of the Coptic Orthodox Church in Lebanon, as well as His Excellency Nazih al-Najjari, Ambassador of Egypt to Lebanon, also welcomed His Holiness the Pope at the airport.
His Holiness is accompanied by their Eminences: Archbishop Anba Bishoy of Damiette, Kafr El-Sheikh, Barary and the Monastery of Saint Demiana, Anba Cyril, bishop and abbot of the Monastery of Saint Mina, Anba Martiros, Bishop of the Churches East of the Railway, Rev. Frs. Angelos Isaac and Amonios Adel, Secretaries of His Holiness the Pope, and Dr. Gerges Saleh, Honorary General Secretary of the Middle East Council of Church.
His Holiness Pope Tawadros II and the accompanying delegation, are guests of our Syriac Orthodox Patriarchate, where His Holiness will participate in the Consecration of Mor Severus of Antioch church and the inauguration of the new Patriarchal Residence in Atchaneh, as well as to participate in the meeting of the Heads of the family of Oriental Orthodox Churches in the Middle East hosted by our Patriarchate.
This slideshow requires JavaScript.