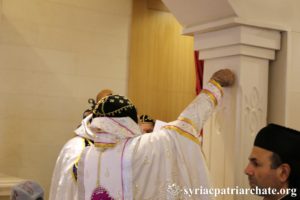 His Holiness Patriarch Mor Ignatius Aphrem II consecrated St. Paul Chapel in St. Paul Center for the Elderly in Zahle.
His Holiness was assisted by their Eminences: Mor Justinus Boulos Safar, Patriarchal Vicar in Zahle and Bikaa, Mor Dioscorus Benjamin Atas, Patriarchal Vicar in Sweden, and Mor Timotheos Moussa Al-Shamani, Metropolitan of the Archdiocese of Mor Mattai Monastery, in the presence of their Eminences: Mor Gregorios Saliba Chamoun, Patriarchal Advisor, Mor Theophilus Georges Saliba, Archbishop of Mount Lebanon and Tripoli, Mor Athanasius Touma Dakkama, Patriarchal Vicar in the United Kingdom, Mor Gregorius Malke Urek, Patriarchal Vicar in Adiyaman and its Environs, Mor Chrysostomos Mikhael Chamoun, Patriarchal Vicar and Director of the Patriarchal Benevolent Institutions in Atchaneh, Mor Nicodemus Daoud Sharaf, Metropolitan of Mosul, Kurdistan and their Environs, Mor Timotheos Matthew, Patriarchal Secretary for Indian Affairs, Mor Georges Kourieh, Patriarchal Vicar of Belgium, France and Luxemburg, and Mor Maurice Amsih, Archbishop of Al-Jazeerah and Euphrates.
His Excellency Mr. Elie Ferzli, Deputy-Speaker of the Parliament of Lebanon, as well as a number of their Excellencies members of the Lebanese Parliament, and individuals and organizations who helped complete this project, as well as Archbishops and representatives of the various Churches in Zahle.
At the end of the rite, His Eminence the Patriarchal Vicar in Zahle and Bikaa gave a speech in which he welcomed His Holiness, thanking him for consecrating the chapel and inaugurating the center. His Eminence congratulated His Holiness, on behalf of all Zahle people, for the inauguration of the new patriarchal residence in Atchaneh. Then, he congratulated all Zahle people for the completion of St. Paul Center project, explaining the various stages of the project and its goals.
His Holiness then spoke congratulation His Eminence, the Vicariate, and all Zahle people for this project, assuring that humanitarian work is at the very essence of Christianity, for serving people, all people, is serving Christ Himself. His Holiness assured that this center will not be a place where elderly will wait their death, but a place where they can get the needed treatment for their recovery with all dignity.
Then, His Holiness, along with their Eminences and their Excellencies, inaugurated the center and made a tour in its various parts and facilities.
This slideshow requires JavaScript.