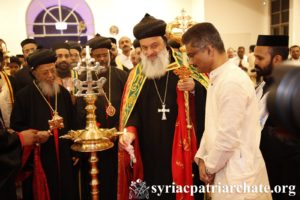 On June 29, 2018, which is the Feast of St. Peter and St. Paul, His Holiness Patriarch Mor Ignatius Aphrem II consecrated St. Peter Church in Perth – Australia.
His Holiness was assisted by His Beatitude Catholicos Mor Baselius Thomas I, and their Eminences: Mor Malatius Malki Malki, Patriarchal Vicar in Australia and New Zealand, Mor Milithios Yuhanon, Metropolitan of Thumpamon Diocese and Patriarchal Vicar in Australia, New Zealand and Singapore, Mor Athanasios Geevarghese, Metropolitan of the Simhasana Churches in Southern Kerala and Abbot of Manjinikkara Dayro, Mor Theethose Yeldo, Archbishop of the Malankara Archdiocese in North America, Mor Iraneous Paulose, Metropolitan of Kozhikkod and Patriarchal Vicar in Oman, and Mor Timotheos Matthew, Patriarchal Secretary for Indian Affairs.
At the end of the rite of the Consecration, His Holiness congratulated the community and spoke about the very essence of Christianity, which is serving people and Christ Himself, especially in the churches built for His praise and the benefit of His people.
This slideshow requires JavaScript.