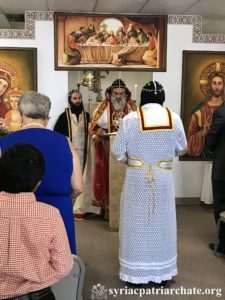 On August 12th 2018, His Holiness Patriarch Mor Ignatius Aphrem II celebrated the Holy Qurobo in St. James of Nisibis in Corpus Christi – Texas.
His Eminence Archbishop Mor Dionysius John Kawak, Patriarchal Vicar for the Eastern USA, assisted His Holiness during the Holy Qurobo.
In his sermon, His Holiness spoke about the Assumption of Virgin Mary Mother of God, how the Apostles gathered at her funeral, and how St. Thomas was late and saw her ascending to heaven and asked for a sign, and how she gave him her girdle.
This slideshow requires JavaScript.