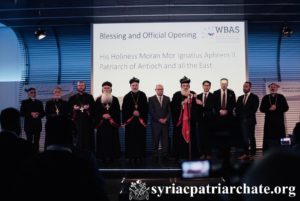 On September 21st 2018, His Holiness Patriarch Mor Ignatius Aphrem II officially inaugurated the First World Business Conference for Suryoye, held in Stuttgart – Germany and organized by Kano Suryoyo.
Dr. Raid Scharbil Gharib, Secretary-General of the conference welcomed His Holiness and all the Suryoyo businessmen present at the conference.
Then, words of welcome and greetings were delivered by Mr. Sami Sagur, Conference President, Mr. Adai Malki, President of Kano Suryoyo, Mr. Habib Afram, President of the Syriac League in Lebanon, and Oliver Jung, Commissioner for European integration and Constitutional Cooperation at the Ministry of Justice of the State of Baden-Wurttemberg.
Then, His Holiness Patriarch Mor Ignatius Aphrem II delivered the inaugural keynote in which he addressed the businessmen present emphasizing the importance of working together as one people. He added that it is significant to have healthy competition among all who work in the field of business; however, it is more important to realize how valuable are the talents that God gave to them, and thus put them together for the use of the community.
At the end of his speech, His Holiness announced the launching of the World Business Association of Suryoyo (WBAS) which will help connecting Syriac businessmen together and facilitate their cooperation together for the good of the Syriac Church people throughout the globe.
Their Eminences: Mor Philoxenus Mattias Nayis, Patriarchal Vicar in Germany, Mor Polycarpus Augin Aydin, Patriarchal Vicar in Holland, and Mor Julius Hanna Aydin, Director of External Relations in Germany attended the opening ceremony.
This slideshow requires JavaScript.