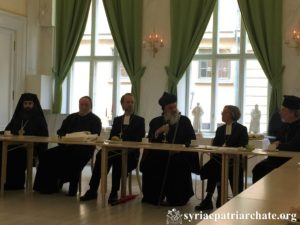 On October 1st 2018, His Holiness Patriarch Mor Ignatius Aphrem II was received by the Metropolitans, Archbishops and Bishops from the Orthodox and Catholic Churches along with the Church of Sweden.
The meeting was hosted by Bishop Eva Brunne, Bishop of Stockholm for the Church of Sweden, at the Stockholm Cathedral. Their Graces Anba Abakir for the Coptic Orthodox Church, Metropolitan Cleopas for the Ecumenical Patriarchate, and Rev. Fr. Jean Mansour, for the Greek Orthodox Patriarchate of Antioch, and the Chaldean Catholic Visitor were also present. His Grace Bishop Mikael Mogren, Bishop of Västerås also attended the meeting.
During the meeting, His Holiness spoke about the importance of working together for spreading the Gospel of Christ. He talked about the current situation in the Middle East, especially the persecution of Christians, and asked the help of the western Churches to relief those suffering brethren and to bring to light the truth of their suffering.
His Holiness was accompanied by their Eminences: Mor Julius Abdelahad Shabo, Metropolitan of Sweden and Scandinavia, Mor Dioscorus Benjamin Atas, Patriarchal Vicar in Sweden, Mor Philoxenus Mattias Nayis, Patriarchal Vicar in Germany, Mor Timotheos Matta Al-Khoury, Patriarchal Vicar in the Patriarchal Archdiocese of Damascus, Very Rev. Raban Joseph Bali, Patriarchal Secretary and Media Office Director, and Very Rev. Raban Aphram Lahdo, Assistant to the Archbishop of Sweden and Scandinavia.
This slideshow requires JavaScript.