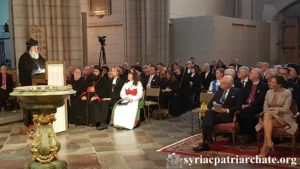 On October 2nd 2018, His Holiness Patriarch Mor Ignatius Aphrem II attended the Opening of the General Synod of the Church of Sweden at the Cathedral of Uppsala.
His Majesty Carl XVI Gustav, King of Sweden and Her Royal Highness Crown Princess Victoria were also present.
During the opening, His Holiness gave a speech in which spoke about the presence of members of our Syriac Orthodox Church in Sweden since the 1960's, and how "they were totally embraced by the Swedish people and especially by the Church of Sweden". He also spoke about the "good contributions" they made to the society "by being hardworking people who succeeded in their businesses and got integrated into the society to a great extent, even in the political life and public services."
His Holiness also considered being at the opening of the General Synod as an expression of "our joy for the very cordial relations and mutual respect existing between our churches". He thanked the Church of Sweden for "helping our people to settle here" without making "any attempts to take away our people from their Church or practice proselytism among them". He also thanked it for "its active role in the life of the ecumenical movement which seeks the visible unity of Christ's Church here on earth for we know we will be united in heaven". His Holiness added that "we also wish to thank the Church of Sweden for its active involvement in the relief efforts in disastrous areas and where human suffering exists."
At the end of his speech, His Holiness raised raise his "humble prayers to our Lord Jesus Christ to bless Sweden, the Royal family, the Church of Sweden and the entire people of this great country".
Their Eminences: Mor Julius Abdelahad Shabo, Metropolitan of Sweden and Scandinavia, Mor Dioscoros Benjamin Atas, Patriarchal Vicar in Sweden, Philoxenus Mattias Nayis, Patriarchal Vicar in Germany, and Mor Timotheos Matta Al-Khoury, Patriarchal Vicar in the Patriarchal Archdiocese in Damascus, as well as Very Rev. Raban Joseph Bali, Patriarchal Secretary and Media Office Director, and Very Rev. Aphrem Lahdo, Assistant of the Archbishop of Sweden and Scandinavia, were also present
This slideshow requires JavaScript.