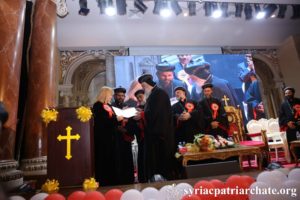 On November 23, 2018, His Holiness Patriarch Mor Ignatius Aphrem II attended a celebratory reception held in honor of his first apostolic visit to Bahrain.
Their Eminences: Mor Coorilos Geevarghese, Patriarchal Vicar in Bahrain, Mor Gregorios Joseph, Metropolitan of Cochin and Secretary of the Regional Synod, Mor Anthimos Matthews, Patriarchal Vicar in the United Kingdom and Ireland, Mor Timotheos Matthew, Patriarchal Secretary for Indian Affairs, and Mor Maurice Amsih, Archbishop of Jazeera and Euphrates, as well as the Reverend priests and deacons, and a large crowd of the faithful of our church, attended the ceremony.
Ms. Betsy Mathieson, Board of Trustees Second Deputy Chairperson of the King Hamad Global Centre for Peaceful Coexistence and President of This is Bahrain Society, represented His Majesty King of Bahrain Hamad bin Isa Al Khalifa.
In his word, His Holiness expressed his great joy to meet his beloved spiritual children and be with and among them. He also thanked them for the true and faithful love they showed him, and for the great steadfast loyalty they have to the throne of Antioch.
Ms. Betsy then gave a speech in which she welcomed His Holiness on behalf of His Majesty. She expressed the respect and love of the Kingdom of Bahrain to the Syriac Orthodox Church as well as to all Christians. She also spoke about religious tolerance, and emphasized the importance of love to God, the self, and the neighbor.
Then, Ms. Betsy presented to His Holiness a gift from His Majesty as a token of respect to him and to the Syriac Church.
The ceremony included lighting the flame of peace, in addition to several musical and performances, as well as chants in Syriac and Malyalam.
This slideshow requires JavaScript.