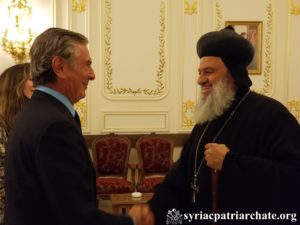 On November 4, 2018, His Holiness Patriarch Mor Ignatius Aphrem II received an official delegation from Brazil, at the Patriarchate Headquarters in Bab Touma – Damascus.
The delegation was led by His Excellency Senator Fernando Collor de Mello, Head of the Brazilian Senate's Foreign Affairs and National Defense Committee.
The delegation was also accompanied by an official Syrian delegation led by Mr. Boutros Marjanah, Head of the Committee of Arab, External and Expatriates Affairs, and Mr. Bashar Yaziji, Head of the Committee of the friendship between the Parliaments of Brazil and Syria.
His Holiness welcomed the delegation in Syria.
In his word, he gave an overview of the current situation in Syria, and the improvement and security which is getting back to the country. He remarked the position of Brazil towards the crisis.
His Holiness also spoke about the projects of the patriarchate especially the Antioch Syrian University which will be officially opened this week.
His Excellency Senator de Mello thanked His Holiness for his warm welcome and assured that the solution of the Syrian crisis should be kept for the Syrian people. He also noted that the Brazilian people show all support to Syria.
Very Rev. Raban Joseph Bali, Patriarchal Secretary and Media Office Director, and Jack Yakoub, Director of the Suryoyo Patriarchal Youth Department, also attended the meeting.
This slideshow requires JavaScript.