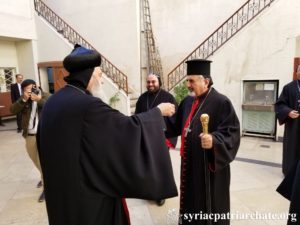 On November 19, 2018, His Holiness Patriarch Mor Ignatius Aphrem II, Patriarch of Antioch and All the East, Supreme Head of the Universal Syriac Orthodox Church, received His Beatitude Mor Ignatius Joseph III Younan, Syriac Catholic Patriarch of Antioch, at the Patriarchate Headquarters in Bab Touma – Damascus.
His Beatitude Joseph Absi, Greek-Melkite Catholic Patriarch of Antioch and all the East, Alexandria, and Jerusalem, His Eminence Cardinal Mario Zenari, the Apostolic Nuncio in Damascus, were also present.
Their Eminences: Mor Timotheos Matta Al-Khoury, Patriarchal Vicar in the Patriarchal Archdiocese of Damascus, and Mor Maurice Amsih, Archbishop of Jazeera and Euphrates, along with their Eminences, Graces, and Excellencies, Archbishops heads and representatives of the Churches in Damascus, as well as the priests, monks and deacons of the patriarchate, also attended the reception.
His Beatitude Patriarch Mor Ignatius Joseph III Younan was accompanied by their Graces: Mor Aphrem Youssef Aba, Archbishop of Baghdad, Patriarchal Vicar in Basra and the Arabian Gulf, and Secretary of the Holy Synod, Mor Youhanna Jihad Battah, General Vicar in the Patriarchal Archdiocese of Beirut, Mor Mattias Charles Mrad, Bishop of the Patriarchal Department, Rev. Fr. Habib Mrad, Patriarchal Secretary, Rev. Fr. John Hayek, Rev. Fr. Amer Al-Qassar, and Deacon Karim Kalash.
His Holiness welcomed His Beatitude "dear brother and partner in the old Antiochian Syriac spiritual heritage which dates back to the dawn of Christianity". He added that "we hope to reach full communion between our two sister Churches, through the unity of our two families of Churches, and all the Christians". His Holiness expressed his great joy to receive His Beatitude; "This is your house", he added, and "our relationship with you is a deep relationship that will always remain as such". He remarked that "we work together for staying firm here in the lands of our forefathers". His Holiness also welcomed His Beatitude Patriarch Joseph Absi, noting the common responsibility they share in leading the Holy Church in Damascus. He also welcomed His Eminence Cardinal Zenari, and all the esteemed guests present.
In turn, His Beatitude Patriarch Mor Ignatius Joseph III Younan thanked His Holiness for his warm reception and overwhelming love. His Beatitude emphasized the importance of reaching full communion and "reaching that day when we all celebrate the Holy Qurobo at the same altar and share the same common chalice of life".
This slideshow requires JavaScript.