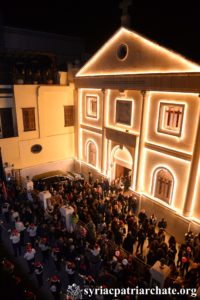 On December 21, 2018, His Holiness Patriarch Mor Ignatius Aphrem II attended a Christmas meditation night entitled "Christmas: Light for the World", organized by all the youth organizations in the Patriarchal Archdiocese of Damascus.
His Holiness Presided over Ramsho (evening) Prayer in St. Georges Cathedral, in the presence of His Eminence Mor Timotheos Matta Al-Khoury, Patriarchal Vicar in the Patriarchal Archdiocese of Damascus, priests and monks of the patriarchate, and a large crowd of faithful.
In his sermon, His Holiness meditated on the shepherds, and how the Good News was preached first to the simple and meek rather than the philosophers and rich. He said that the shepherds went searching with fear for the Baby born; however, when they found Him, they were comforted, thus they went preaching to all whom they met what they have seen. His Holiness also spoke about the message of peace that the angels brought to the earth. He thanked the Lord for the security and safety which are back to Syria, and expressed his gladness to see Christmas decorations and celebrations all over Syria once again. Nonetheless, His Holiness urged the faithful to keep in their mind and heart that Jesus is the reason of all these celebrations.
After the prayer, a Christmas meditation play was presented by the youth, in which they raised prayer altogether.
Then, His Holiness and all the crowds of people moved to Sayfo garden where he lit the Christmas decoration.
A Christmas celebration then took place in which several Christmas Chants, as well as other activities were presented.
This slideshow requires JavaScript.