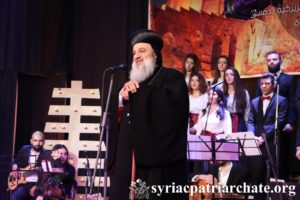 On December 22, 2018, His Holiness Patriarch Mor Ignatius Aphrem II attended an event organized by St. Aphrem Patriarchal Choir for the second anniversary of the liberation of the city of Aleppo.
During the event, Christmas chants as well as national and cultural songs were presented by the choir in different languages.
In his word, His Holiness considered that Christmas is a priceless feast that brings to us peace every year, even in times of hardship. It is a feast that brings joys to the heart of all people and reminds them that life is stronger than death. His Holiness added that it was meant for us in Syria to be dead, but we love life, not any life, but the life that is according to the will of God, it is the life of heaven on earth, full of heavenly peace. His Holiness also praised their great performance of the choir, and congratulated all the crowds present for the occasion of the second anniversary of the liberation of Aleppo. Today, His Holiness elaborated, is a chance for us to live once again the peace that we have missed for years, not an external peace but a peace that springs out from the bottom of the heart.
His Eminence Mor Timotheos Matta Al-Khoury, Patriarchal Vicar in Damascus, as well as their Excellencies representatives of the various churches in Aleppo, and a number of political and public figures and a crowd of people, attended the event.
This slideshow requires JavaScript.