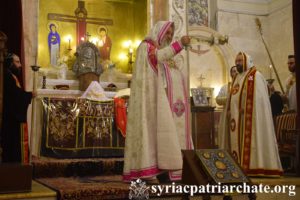 On December 23, 2018, His Holiness Patriarch Mor Ignatius Aphrem II celebrated the Holy Qurobo at St. Aphrem Cathedral in al-Sulaymaniyye – Aleppo.
He was assisted by His Eminence Mor Timotheos Matta Al-Khoury, in the presence of Very Rev. Raban Boutros Kassis, Patriarchal Delegate of the Archdiocese of Aleppo and Environs, as well as the clergy, deacons, and a crowd of the faithful.
in his sermon, His Holiness expressed his gladness to meet his spiritual children in Aleppo, and thanked the Lord who gave him this opportunity to be with them and express his love to them, especially in the absence of their shepherd Mor Gregorius Youhanna Ibrahim. He considered that the abduction of the two bishops of Aleppo as well as the clergy and innocent people leads us to question this decaying world and the aim of doing any evil and harm.
His Holiness greeted the faithful for the occasion of the Nativity of our Lord Jesus, and prayed for the release of all the abducted, and that Aleppo may fully recover from the crisis.
He also commented on the reading from Holy Gospel of the Sunday of genealogy of our Lord Jesus. He said that St. Matthew aimed at making it clear for the Jews that Jesus is the Son of David, and that all prophecies come to completion through Him.
After the Qurobo, His Holiness inaugurated a Christmas exhibition organized by the Center of Christian Education in the Cathedral. He then received the faithful who offered him Christmas greetings.
This slideshow requires JavaScript.