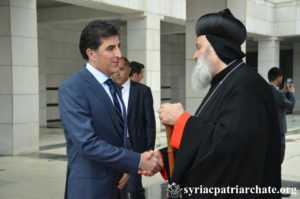 On January 25, 2019, His Holiness Patriarch Mor Ignatius Aphrem II met with His Excellency Prime Minister of the Kurdistan Regional Government of Iraqi Kurdistan Mr. Nechirvan Barzani.
His Holiness was accompanied by their Eminences: Mor Nicodemus Daoud Sharaf, Archbishop of Mosul, Kirkuk, Kurdistan and Environs, Mor Gregorios Saliba Chamoun, Patriarchal Counselor, Mor Severius Hawa, Archbishop of Baghdad and Basra, Mor Justinos Paulos Safar, Patriarchal Vicar in Zahleh and Bekaa, Mor Timotheos Moussa Al-Shamani, Archbishop of the Archdiocese of Mor Mattai Monastery, and Mor Timotheos Matta Al-Khouri, Patriarchal Vicar for the Patriarchal Archdiocese of Damascus, as well as Very Rev. Raban Joseph Bali, Patriarchal Secretary and Media Office Director, and Very Rev. Fr. Patrick from Barnabas Fund.
The meeting was also attended their Excellencies: Mr. karim sinjari, Minister for the Interior, Mr. Pishtiwan Sadiq, Minister of Education.
His Excellency Prime Minister Barzani welcomed His Holiness and expressed his full support to Christians. His Holiness thanked His Excellency and the Regional Government for the help and facilitation they provide to Iraqi Christians. They also spoke about the projects being executed by His Eminence Mor Nicodemus Daoud for the service of the faithful. They also noted the major role of Christians in the Academic and Educational field.
This slideshow requires JavaScript.