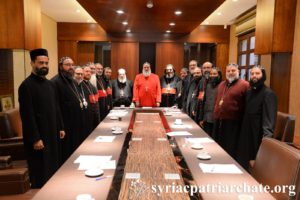 On Saturday 9, 2019, His Holiness Patriarch Mor Ignatius Aphrem II presided over an advisory session concerning the situation of our church in India and the situation of the Knanaya Archdiocese, at the Patriarchal Residence in Atchaneh, Bikfaya – Lebanon.
Their Eminences  who were present in the episcopal consecration of Mor Anthimos Jack Yacoub, namely:  Mor Theophilus Georges Saliba, Archbishop of Mount Lebanon and Tripoli, Mor Dioscoros Benjamin Atas, Patriarchal Vicar in Sweden, Mor Selwanos Boutros Al-Nemeh, Archbishop of Homs, Hama, Tartous and Environs, Mor Athanasius Elia Bahi, Patriarchal Vicar in Canada, Mor Justinos Boulos Safar, Patriarchal Vicar in Zahleh and Bekaa, Mor Gregorius Malke Urek, Patriarchal Vicar in Adiyaman and its Environs, Mor Clemis Daniel Kourieh, Archbishop of Beirut, Mor Dionysius Jean Kawak, Patriarchal Vicar for the Archdiocese of the Eastern United States of America, Mor Chrysostomos Mikhael Chamoun, Patriarchal Vicar and Director of the Patriarchal Benevolent Institutions in Atchaneh, Mor Nicodemus Daoud Sharaf, Archbishop of Mosul, Kirkuk, Kurdistan and Environs, Mor Timotheos Matta Al-Khoury, Patriarchal Vicar in the Patriarchal Archdiocese of Damascus, Mor Timotheos Matthew, Mor Georges Kourieh, Patriarchal Vicar of Belgium, France and Luxemburg, Mor Maurice Amsih, Archbishop of Al-Jazeerah and Euphrates, participated in the session.
His Holiness inaugurated the session with a prayer in which he asked the guidance of the Holy Spirit for the fathers. The Church Fathers discussed the situation in the Church in India, especially the recent developments in the Knanaya Archdiocese.
This slideshow requires JavaScript.