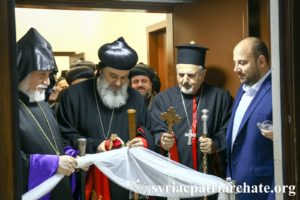 On Monday March 25, 2019, His Holiness Patriarch Mor Ignatius Aphrem II officially opened the studios of the Patriarchal TV Channel Suboro TV. The opening was attended by His Holiness Catholicos Aram I, Armenian Orthodox Catholicos of the Great House of Cilicia, and His Beatitude Syriac Catholic Patriarch of Antioch Mor Ignatius Youssef III Younan, as well as Archbishops and officials and workers in the field of the media.
After inspecting the studios and the diverse parts of the new TV channel, their Holinesses and Beatitude were briefed on the different stages of work in Suboro TV. His Holiness then conducted the service of the blessing of the new studios. At the end of the service, their Holinesses and beatitude blessed the water which was spread in the new offices of the headquarters of Suboro TV.
Then the official inaugural ceremony was conducted in the great hall where the executive director of Suboro TV spoke and introduced the diverse programs that will be broadcasted on the channel.
His Eminence Mor Anthimos Jack Yacoub, Patriarchal Vicar for Youth Affairs and Religious Education, and Mr. Majed Bou Hadir delivered speeches on this occasion.
In his speech, His Holiness congratulated the faithful of the Syriac Orthodox Church on the opening of Suboro TV "Voice of Antioch" which "carries a great message and mission: to spread the good news that the Lord Jesus called His disciples to carry to the entire world, the good news of the salvation of men… and it expresses the authenticity of our spiritual heritage and of belonging to the apostolic see established by St. Peter in Antioch".
His Holiness added: "Today, from the high mountains, Suboro TV "the Voice of Antioch" is launched over the cedars, carrying with it the word of God through our oriental spirituality and apostolic Antiochian traditions. It carries the good news not only to every Syriac person, but to every human being wherever he is. Man was always the pivotal center of God's care: for his sake, God created everything in this world. Out of our conviction that every human being is important, we decided that the mission of Suboro TV is: building Man".
At the end of the ceremony, His Holiness received the congratulating people who shared their enthusiasm on the opening of this new TV channel for the glory of God and the growth of the Holy Church.
This slideshow requires JavaScript.