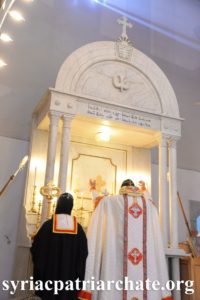 On April 28, 2019, His Holiness Patriarch Mor Ignatius Aphrem II celebrated the Holy Qurobo on Easter Sunday at St. Georges Patriarchal Cathedral in Bab Touma Damascus.
Their Eminences Archbishop Mor Timotheos Matta Al-Khoury, Patriarchal Vicar in the Patriarchal Archdiocese of Damascus, and Archbishop Armash Nalbandian, Armenian Orthodox Archbishop of Damascus, assisted His Holiness in the Holy Qurobo.
His Excellency Mr. Hammouda Sabbagh, Speaker of the Syrian Parliament, attended the Qurobo along with his family.
In his sermon, His Holiness assured that we who believe that our Lord is Risen from the dead, should live accordingly, and thus be new creation in the Spirit and the truth. He considered that "the evil, destruction, wars, famine, disasters, are all a sign of our weak faith in God and in His resurrection, and of not leading a life that pleases the Risen Son". He added: "if all humans believe in His resurrection, our world would have been a better place where peace, love, and serenity reign".
His Holiness also considered that the life of our Lord Jesus between us did not come to an end on the cross, but found its completion when He rose from the dead. His life is a life of love, for He said: for God so loved the world that he gave his one and only Son, that whoever believes in him shall not perish but have eternal life. His Holiness illustrated: "Each one of us is deer to our Lord Jesus Christ, not only those of us who believe in Him, but all humans, for He wants that all of us repent and be saved". He added: "we have never heard of a god who came to death on behalf of the world, and not only for those who love him, but also for the non believers. Only our true Lord and God Whom we worship came to death for us that we may not die".
His Holiness continued: "today is the Feast of Resurrection; today is a day in which we renew our lives in Christ; a day in which we become new in Spirit and truth, and accept the new law of the Lord Jesus Christ, thus love our enemies and pray for those who persecute us".
About the situation in Syria, His Holiness said: "We have appealed, and continue to appeal to those countries and powers that have imposed illegal, unjust, and unilateral sanctions on us, to lift them; for no one deserves to be deprived of his basic human rights". His Holiness prayed for all those doing evil to Syria, that the Lord may enlighten them and bring them towards the truth. He prayed for Iraq, Lebanon, and the region.
He also greeted his spiritual children faithful of the Syriac Orthodox Church of Antioch, and to all Christians. He concluded: "we pray that our world becomes consecrated to the Lord God. Christ is Risen, truly Risen".
At the end of his sermon, His Holiness also prayed for peace in Syria and in the Middle East.
During the Holy Qurobo, His Holiness led the procession of the Cross as well as the special prayers for the Resurrection.
This slideshow requires JavaScript.