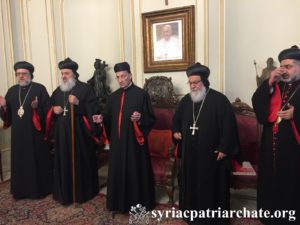 On May 14, 2019, His Holiness Patriarch Mor Ignatius Aphrem II offered his condolences to His Brother in Christ His Beatitude and Eminence Cardinal Mar Bechara Boutros Al-Rai, Maronite Patriach of Antioch and All the East, on the passing away of the thrice blessed Late Maronite Patriarch Cardinal Mar Nasrallah Boutros Sfeir, at the Maronite Patriarchate Headquarters in Bkerki – Lebanon.
His Holiness was accompanied by a delegation from their Eminences Archbishops of the Syriac Orthodox Church: Mor Theophilos George Saliba, Archbishop of Mount Lebanon and Tripoli, Mor Justinos Boulos Safar, Patriarchal Vicar in Zahleh and Bekaa, Mor Clemis Daniel Kourieh, Archbishop of Beirut, Mor Chrysostomos Mikhael Chamoun, Patriarchal Vicar and Director of the Patriarchal Benevolent Institutions in Atchaneh, and Mor Timotheos Matthew, as well as Very Rev. Raban Joseph Bali, Patriarchal Secretary and Media Office Director, and Very Rev. Raban Cyril Babi, Director of the Department of Legal Affairs and Spiritual Courts.
His Holiness held there the special service for the departed patriarchs (teshmeshto d-Kumre).
His Holiness will not be able to attend the funeral of the Late Patriarch Sfeir due to previously determined apostolic visit to the Archdiocese of the Eastern United States.
At the end, His Holiness expressed his sorrow for the loss of Patriarch Sfeir, who was a great Oriental and Lebanese figure, who has devoted his life for Lebanon. His Holiness considered that, by his passing away, Late Patriarch Sfeir unifies the Lebanese altogether for the love and service of the country.
This slideshow requires JavaScript.