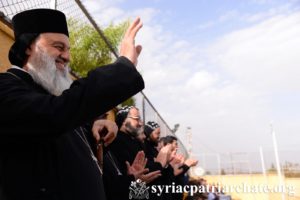 On May 1st, 2019, His Holiness Patriarch Mor Ignatius Aphrem II inaugurated the Round Sixteen of the Antioch Cup Championship organized by the Suryoyo Patriarchal Youth Department (SPYD) at Saydnaya playground in Rif-Dimashq.
He was accompanied by their Eminences Mor Timotheos Matta Al-Khoury, Patriarchal Vicar in the Patriarchal Archdiocese of Damascus, and Mor Anthimos Jack Yakoub, Patriarchal Vicar for Youth Affairs and Religious Education.
His Eminence Mor Anthimos welcomed His Holiness and thanked him for blessing the championship by his personal presence. He also welcomed the various qualified teams participating in the championship from all the Syriac Orthodox Archdioceses in Syria. He also spoke about the goals of the championship, mainly strengthening the love and respect bonds between children of the church.
In his word, His Holiness expressed his joy to be among his spiritual children who gather for the opening of the Round Sixteen of Antioch Cup Championship. He praised the high organization of the cup, and spoke about the importance of sports in keeping our bodies – which are temples of the Holy Spirit – in shape.
During the opening, the Cup of the Friendly Football Championship organized by SPYD in 2018, and won by Don Bosco team, was presented by the winners to Saydnaya Team, who lost Rami – a member of the team last year. Sydnaya team, in turn, presented the cup to the father of Rami.
The Final Match in the championship will take place on May 6, 2019.
This slideshow requires JavaScript.