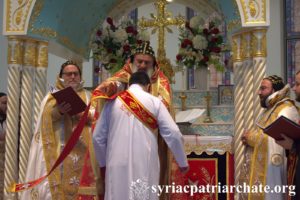 On May 19, 2019, His Holiness Patriarch Mor Ignatius Aphrem II celebrated the Holy Qurobo at St. Mark Cathedral in New Jersey, and ordained subdeacons and readers for the Archdiocese of the Eastern United States.
Their Eminences and Graces: Mor Dionysius Jean Kawak, Patriarchal Vicar for the Archdiocese of the Eastern United States of America, Mor Timotheos Matta Al-Khoury, Patriarchal Vicar in the Patriarchal Archdiocese of Damascus, Anba Macarios, Coptic Orthodox Patriarchal Exarch of the Eritrean Congregation in the USA, and Archbishop Daniel Findikyan, Archbishop of the Eastern Diocese of Armenian Apostolic Church in America, assisted His Holiness in the Qurobo.
In his sermon, His Holiness spoke about the importance of the Resurrection season in the life of the Holy Church. During this period, His Holiness said, we celebrate the time when our Lord Jesus used to stay with the disciples to teach them. His Holiness also affirmed the significance of the Apostolic tradition in the Church.
He then congratulated the faithful of the Archdiocese for the consecration of their new cathedral, as well as for the ordination of the new subdeacons and readers.
This slideshow requires JavaScript.