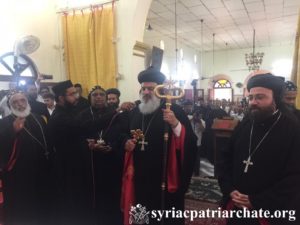 On May 24, 2019, His Holiness Patriarch Mor Ignatius Aphrem II presided over ramsho (evening) prayer at the Cathedral of Mor Ignatius Dayro in Manjinikara – India.
His Beatitude Catholicos Mor Baselios Thomas I, Catholicos of India, their Eminences Archbishops members of the accompanying delegation, and of the Regional Synod in India, as well as the Very Rev. and Rev. fathers, deacons, and a crowd of the faithful, were also present.
After the prayer, His Holiness addressed the faithful expressing his great joy to meet them for the third time, and congratulating them for the inauguration of the new residence of the Dayro.
His Holiness then spoke about the special situation of the Church in India, he said: "You are always in our prayers and in our mind; every single day we think of you and we ask the Lord to help us to find a solution for the problem that our Church is in".
His Holiness added: "No one can tell in whom you believe and to whom your loyalty should be; this is something personally between you and your God, between you and the great memory of your forefathers who taught you the faith and who entrusted to you this great jewel of faith and loyalty". He continued: "Of course we respect the court of this country and the legal system of this country, however courts and judges cannot judge the faith of people, they judge based on technicalities, they judge based in the facts presented to them and the information they were given, but they cannot judge your faith, your loyalty. It's very obvious that we expect of you to respect and to obey the laws of these country; however, your faith, you decide it no one else."
His Holiness illustrated: "we tried, and we gave space and time for this to happen, we took many initiatives, we wrote, we received many people, mediators, tried to set up meetings and to discuss the issues of the church, but unfortunately all these did not work". However, His Holiness continued "we are praying and we are working for peace in our church, we want reconciliation, we want people to live in peace and harmony, to be able to worship their God and their Savior according to the age old traditions of their forefathers, we will do all that we can to bring peace and harmony to our church here".
This slideshow requires JavaScript.