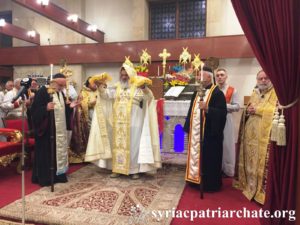 On June 9, 2019, His Holiness Patriarch Mor Ignatius Aphrem II celebrated the Holy Qurobo at Um Al-Nour (Mother of Light) Church in Erbil – Iraq.
He was assisted by Their Eminences Mor Nicodemus Daoud Sharaf, Archbishop of Mosul, Kirkuk, Kurdistan and Environs, and Mor Timotheos Moussa Al-Shamani, Archbishop of the Archdiocese of Mor Mattai Monastery, in the presence of the clergy and a crowd of the faithful.
In his sermon, His Holiness recalled his visit to Iraq, four years ago, like these days, to stand by the side of his spiritual who were obliged to flee Mosul and Nineveh plains leaving their houses and work and seeking shelter from persecution in Erbil and other places. His Holiness considered that the persecuted Christians in the Middle East remind us of the early Church, especially the times of the disciples, who were afraid and worried after the ascension of the Lord; however, His Holiness added, when they received the Holy Spirit, they went out and spread the Good News. Nowadays also, the Holy Spirit casts out all our fears. His Holiness also spoke about the aim of his visit, that is taking part in the ceremony of the legal oath of His Excellency Nechirvan Barzani as President of Iraqi Kurdistan.
This slideshow requires JavaScript.