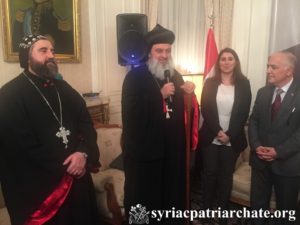 On June 13, 2019, His Excellency Mr. Maher Mahfouz, Charge d'Affaires of the Syrian Embassy in Buenos Aires, held an official reception in the honor of His Holiness Patriarch Mor Ignatius Aphrem II at the Syrian Embassy in Buenos Aires.
His Holiness was accompanied by their Eminences: Mor Chrysostomos Youhanna Ghassaly, Patriarchal Vicar in Argentina, Mor Mor Severius Malke Mourad, Patriarchal Vicar in Brazil, Mor Chrysostomos Mikhael Shemoun, Patriarchal Vicar and Director of the Patriarchal Benevolent Institutions in Atchaneh, and Mor Titus Boulos Touza, Apostolic Nuncio to the Syriac Missions in Brazil as well as Very Rev. Raban Joseph Bali, Patriarchal Secretary and Media Office Director.
The ambassadors of Russia, Venezuela, Serbia and others as well as Syrian dignitaries from Argentina attended the reception.
His Excellency Mr. Mahfouz welcomed His Holiness and expressed his joy at the blessing that His Holiness brought from the Middle East, the land of the ancient religions.
His Holiness thanked His Excellency for his love and for welcoming him at the "Syrian House". He spoke about the real situation in Syria, which is different from what media is propagating. He said that his visit is both pastoral – to visit the faithful of the Syriac Orthodox Church in Argentina – and to reflect the true image of Syria and the reality of what is happening there.
This slideshow requires JavaScript.