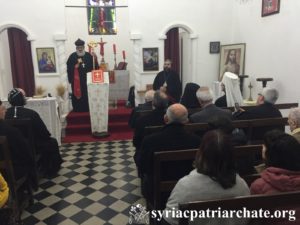 On June 15, 2019, His Holiness Patriarch Mor Ignatius Aphrem II presided over ramsho (evening) prayer of the Feast of Pentecost, at St. Aphrem Church in Buenos Aires.
A special prayer was also held for the commemoration of the martyrs of Sayfo Genocide.
The prayer was attended by their Eminences: Mor Chrysostomos Youhanna Ghassaly, Patriarchal Vicar in Argentina, Mor Chrysostomos Mikhael Chamoun, Patriarchal Vicar and Director of the Patriarchal Benevolent Institutions in Atchaneh, Mor Titus Boulos Touza, Apostolic Nuncio to the Syriac Evangelical Mission Churches in Brazil, as well as clergy and faithful from Buenos Aires.
His Eminence Cardinal Mario Aurelio Poli, Archbishop of Buenos Aires, and their Graces Greek Orthodox Metropolitan of Buenos Aires Yacoub Al-Khoury and Russian Orthodox Metropolitan Ignatius also attended the prayer along with many clergy from sister churches.
At the end, His Holiness gave a short sermon in which he expressed his happiness to meet his spiritual children on his first apostolic visit to Argentina. He spoke about the Feast of the Pentecost which is a feast that unites Christians in the one Holy Spirit Who dwelled on the Apostles as promised by the Lord Jesus Christ. He added that the Syriac Orthodox Church celebrates today the commemoration of the Syriac Genocide Sayfo. The Church celebrates the courage of the martyrs who did not fear death but loved the Lord and happily gave their lives for Him, conquering death in this world. His Holiness added that the martyrs of Sayfo are the living members of the Church who taught us to build our church on the strong rock of faith, namely on our Lord Jesus Christ.
This slideshow requires JavaScript.