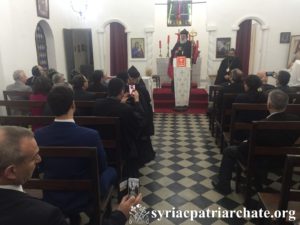 On the evening of June 13, 2019, His Holiness Patriarch Mor Ignatius Aphrem II presided over ramsho (evening) prayer at St. Aphrem Church in Buenos Aires. He was accompanied by their Eminences: Mor Severius Malke Mourad, Patriarchal Vicar in Brazil, Mor Chrysostomos Mikhael Shemoun, Patriarchal Vicar and Director of the Patriarchal Benevolent Institutions in Atchaneh, and Mor Titus Boulos Touza, Apostolic Nuncio to the Syriac Missions in Brazil as well as Very Rev. Raban Joseph Bali, Patriarchal Secretary and Media Office Director.
His Eminence Mor Chrysostomos Youhanna Ghassaly, Patriarchal Vicar in Argentina, welcomed His Holiness and the accompanying delegation and thanked him for his role in defending the Christians in the Middle East.
His Holiness expressed his joy to begin his apostolic visit to Argentina with a prayer with the other churches in coincidence with the day of the prayer for the unity of the churches. He also thanked the Lord for the role of Argentina in welcoming Christian emigrants from the Middle East since the last century, and giving them the opportunity to live and prosper. He compared those days to ours where the religious extremism is the enemy of life, especially the attempts to empty the Middle East from Christians.
At the end of the prayer, His Holiness received the guests who attended the official reception held in his honor. Among the guests were: His Excellency Mr. Maher Mahfouz, Charge d'Affaires of the Syrian Embassy in Buenos Aires, the representative of His Eminence Cardinal Poli, and their Excellencies Armenian Orthodox Archbishop of Buenos Aires Kissag Mouradian, Greek Orthodox Metropolitan of Buenos Aires Jacob Al-Khoury, Russian Orthodox Metropolitan Ignatius,  and other representatives of the sister churches in Argentina.
This slideshow requires JavaScript.