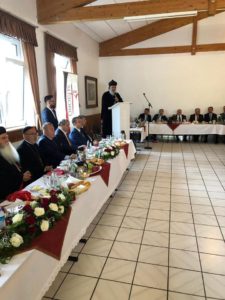 On July 7, 2019, His Holiness Patriarch Mor Ignatius Aphrem II celebrated the Holy Qurobo at Mor Aho Church in Paderborn.
He was assisted by their Eminences: Mor Philoxenus Mattias Nayis, Patriarchal Vicar in Germany, Mor Julius Hanna Aydin, Director of External Relations in Germany, and Mor Georges Kourieh, Patriarchal Vicar of Belgium, France and Luxemburg.
In his sermon, His Holiness encouraged the faithful to remain attached to the church and to learn its teachings and the traditions that the holy Fathers have delivered to us and that we were able to keep to this day.
After the Holy Qurobo, His Holiness attended a reception held to introduce and promote Suboro TV. In his word, His Holiness spoke about the importance of Suboro TV, and its programs that offer spiritual and cultural knowledge as well as the opportunity to be connected more to the church.
This slideshow requires JavaScript.