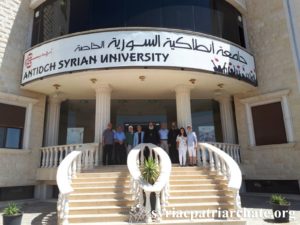 On July 28, 2019, His Holiness Patriarch Mor Ignatius Aphrem II received in Mor Aphrem Monastery in Maarat Saydnaya His Excellency Mr. Maher Mahfouz, Chargé d'Affaires of the Syrian Embassy in Argentina with his esteemed family.
His Holiness welcomed his guests and spoke with them about the history of the Syriac Orthodox Church and the projects executed by the patriarchate to support the presence of Christians in Syria and the Middle East, as well as to help rebuild and develop the Syrian society and all its components.
His Holiness and his guests visited Sts. Peter and Paul Cathedral, Lady of the Holy Girdle Grotto, Sayfo monument, and the Altar of the Martyrs of Sayfo.
Then, His Holiness and his guests visited Antioch Syrian University (ASU), where they were received by Dr. Rakan Razouk, President of ASU. Dr. Razouk accompanied His Holiness and his guests in a tour in the university facilities and informed them about the various academic programs provided by ASU.
His Holiness and his guests visited also Melkart Pharmaceutical Factory, as well as the Holy Cross Monastery, and the Little Angel's House Orphanage.
Very Rev. Raban Boutros Kassis, Patriarchal Delegate in Aleppo and Environs.
This slideshow requires JavaScript.