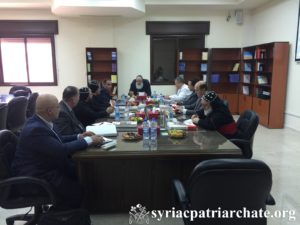 On August 8, 2019, His Holiness Patriarch Mor Ignatius Aphrem II presided over the meeting of the Administrative Board of "Renyo" (the company that owns Antioch Syrian University), which was held at the Headquarters of Antioch Syrian University in Maarat Saydnaya.
The meeting was attended by their Eminences: Mor Selwanos Boutros Al-Nehmeh, Archbishop of Homs, Hama, Tartous and Environs, Mor Timotheos Matta Al-Khoury, Patriarchal Vicar in the Patriarchal Archdiocese of Damascus, and Mor Maurice Amsih, Archbishop of Al-Jazeerah and Euphrates, as well as the President of ASU Dr. Rakan Razzouk and the members of the Administrative Board of Renyo.
During the meeting, Dr. Razzouk presented to the Board the recent developments related to the curricula and the academic staff at the ASU. The Board also discussed the plans to develop the educational services in all the faculties of the University.
His Holiness gave his instructions to work on providing the necessary education to meet the needs of society and to make use of the experience of the youth in all the areas and services provided by the University.
His Holiness had visited the Headquarters of ASU and inspected the diverse sections as well as the newly opened laboratories.
This slideshow requires JavaScript.